Quick, convenient installation.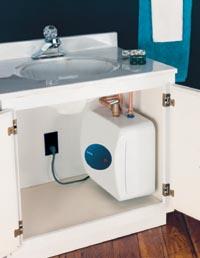 Simply tap into the cold water line and install the heater directly
Independent Installation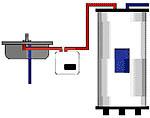 In-line Installation
at the sink. Ariston heaters
may also be installed in-line with a larger hot water source, such as a Bosch AquaStar tankless heater, or a storage tank heater. Lightweight and compact, the 2.5 and 4 gallon models plug into a standard 110 volt outlet. The 6 Gallon Plus requires hard wiring and can be mounted vertically or horizontally. All models include a mounting bracket for wall hanging, or the unit can sit directly on the floor.