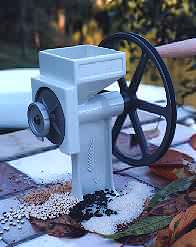 WARRANTY:
This warranty is a Limited Warranty as defined in the Consumer Product Warranty and the Federal Trade Commission Improvement Act. It gives you specific legal rights and you may also have other rights that vary from state to state.
LENGTH: Country Living Products warrants this Country Living Grain Mill to be free from defects in material and workmanship under NORMAL USE and conditions for a period of twenty (20) years which includes all parts, excluding the finish. The grinding plates are warranted for a period of one (1) year from the original date of purchase. This warranty is voided during this period if the mill is used in any way other than recommended, is motorized, or used commercially.
REGISTRATION: The Warranty Registration Card must be completed and mailed to Country Living Products, 14727 56th Ave. NW, Stanwood, Washington 98292, within fifteen (15) days from the date of purchase. This proof of purchase, along with purchase date, must be on file when requesting warranty service.
WARRANTY CLAIMS: You must receive verbal or written authorization from Country Living Products to return the mill, plates, or any defective part. This can be obtained by writing or calling us at the address or phone number included with these instructions. Returned mills or mill parts must be shipped freight prepaid to an authorized service center specified by Country Living Products. The return shipping cost to the consumer will be the responsibility of Country Living Products.
SHIPPING DAMAGE: Damage due to shipping should be reported immediately to the carrier. Damage caused in shipping is not the responsibility of Country Living Products.
SERVICE: The company will repair or, at its discretion, replace the Grain Mill or mill parts free of charge if, in the opinion of the company or its authorized agents, it has been proven the problem was related to defective parts or an error in workmanship within the warranty period.
LIMITATIONS: The warranty is void if the product is used for any other purpose than that for which it is designed or intended. The product must not be altered, repaired or serviced by anyone other than the company or an authorized service center. The product must not have been subject to accident in transit or, while in the customer's possession, misused, abused or operated contrary to the instructions contained in the instruction manual. This includes failure caused by neglect, commercial use and Acts of God. This warranty is not transferrable and applies only to United States and Canadian sales.
EXPRESSED OR IMPLIED WARRANTIES: Except to the extent prohibited by law, no other warranties whether expressed or implied, including warranty merchantability and fitness for a particular purpose, shall apply to this product. Under no circumstances shall Country Living Products be liable for consequential damages sustained in connection with said product and Country Living Products neither assumes nor authorizes any representative or other person to assume for it any obligation or liability other than such as is expressly set forth. This warranty covers only the Country Living Grain Mill and its specific parts, not the food or other products processed in it.