Unlike most of today's 'high tech' woodstoves the Waterford 104 MK II provides you with all of the benefits of today' s technology but at an affordable price! This elegant all-cast iron woodstove, from Ireland's famed Waterford Foundry, utilizes built-in combustion technology to deliver more heat from less wood without the use of a cumbersome and expensive catalytic combustor.


Ordinary stoves often cannot generate combustion temperatures high enough to burn many of the fire's volatile gases. The 104 MK 11's unique design provides the conditions needed for more complete combustion, and you not
only get more heat from less wood but because more pollutants are burned away your chimney stays cleaner, with little or no flammable creosote buildup.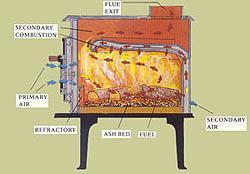 Outstanding Features
* Surpasses the EPA's toughest anti-pollution standards (phase 11 1990), delivering high heat output (to 25,900 BTU/hr) with superior combustion efficiency (to 70.3%) without the use of a catalytic combustor!

* Airtight construction with fingertip control assuring long - lasting controlled heat!
* Elegant, durable all-cast iron construction - designed to last a lifetime!
* Ground cookplate for fast heat transfer to your teakettle or cookpot!
* Backed by Waterford's limited
3 year warranty!